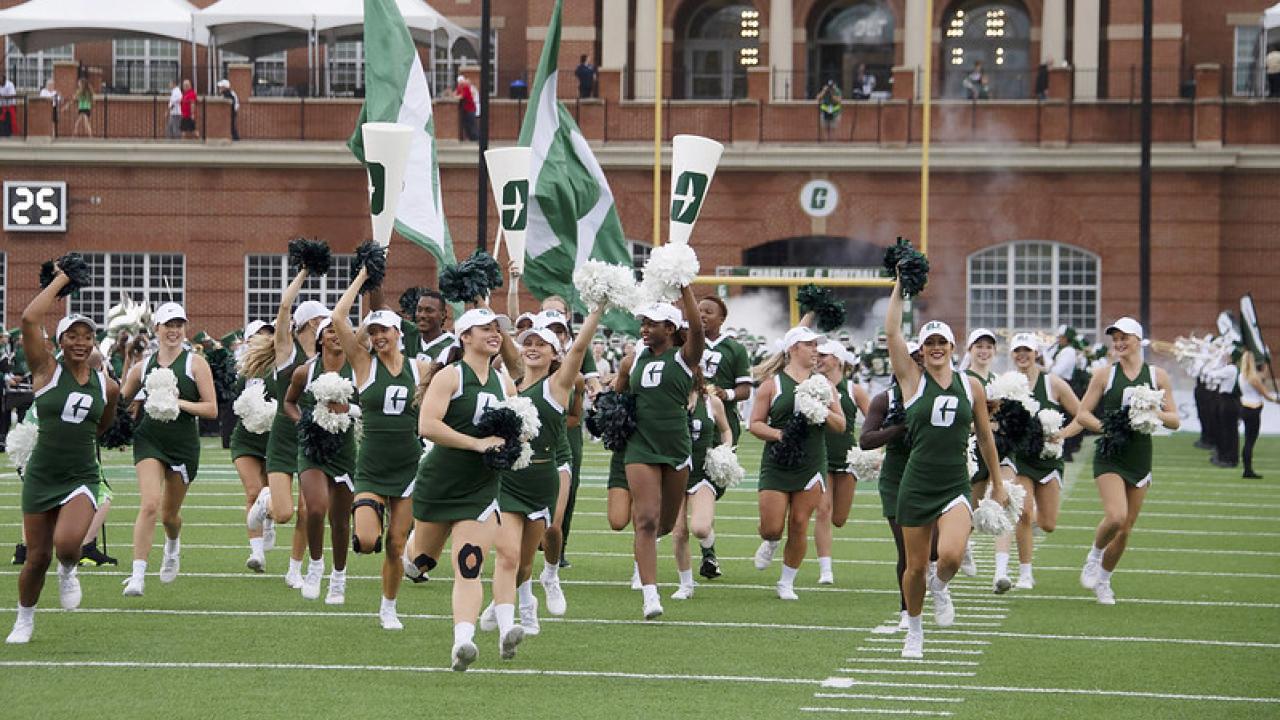 THE 49ERS NICKNAME
The "49ers" nickname was chosen in recognition of the importance of the year 1949 in the history of the University.
UNC Charlotte, which began as an off-campus center of the University of North Carolina, would have ceased to exist in 1949 had Bonnie Cone and her supporters not convinced the N.C. Legislature that Charlotte needed a permanent institution of higher learning. Charlotte College was established that year, with the nickname "Owls" in an homage to the College's beginnings as a night school.
It is fortuitous that the University campus is located on N.C. Highway 49 and that Charlotte has a rich gold mining history, but neither are the inspiration for the nickname.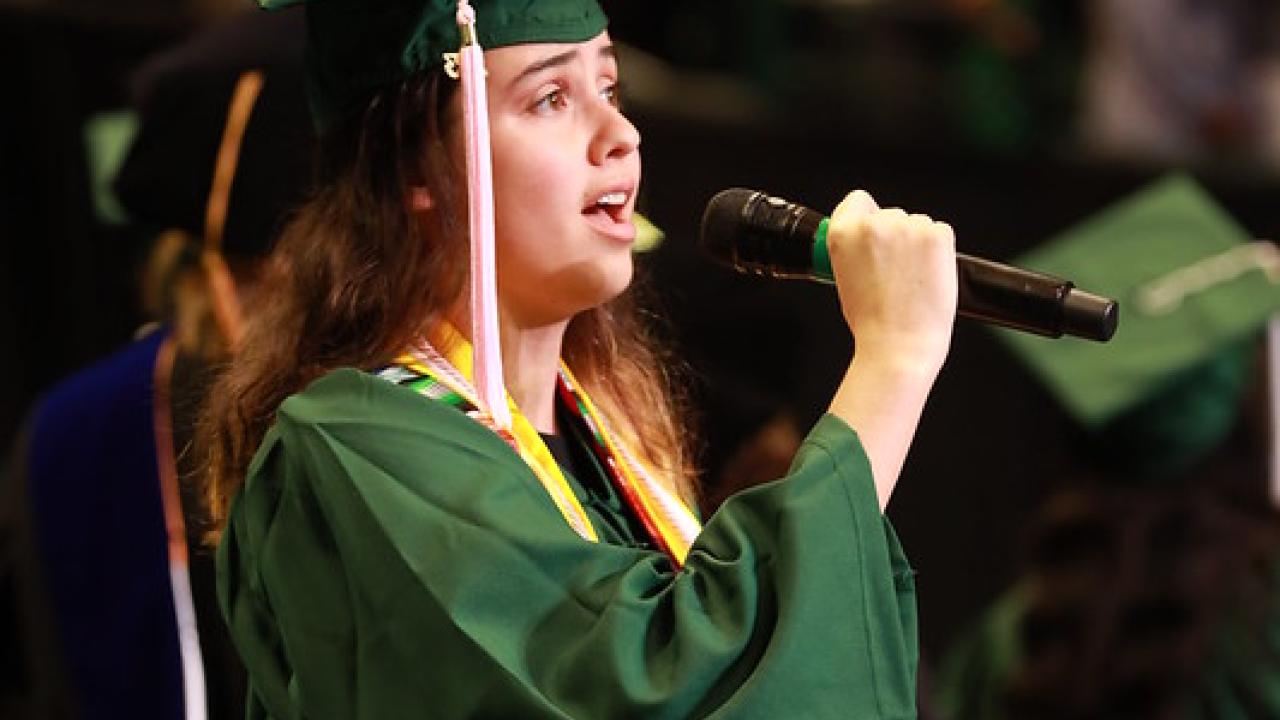 ALMA MATER
Hail University! To you we sing our praise.
May Charlotte's light dispel the night, illumine all our days.
In Carolina's crown the brightest gem we see.
Without your power our finest hour would hold no victory.
So let us love your life and cherish your great name.
To aid your cause, up hold your laws, and your enduring fame.
Listen to the Alma Mater sung by the UNC Charlotte Choirs.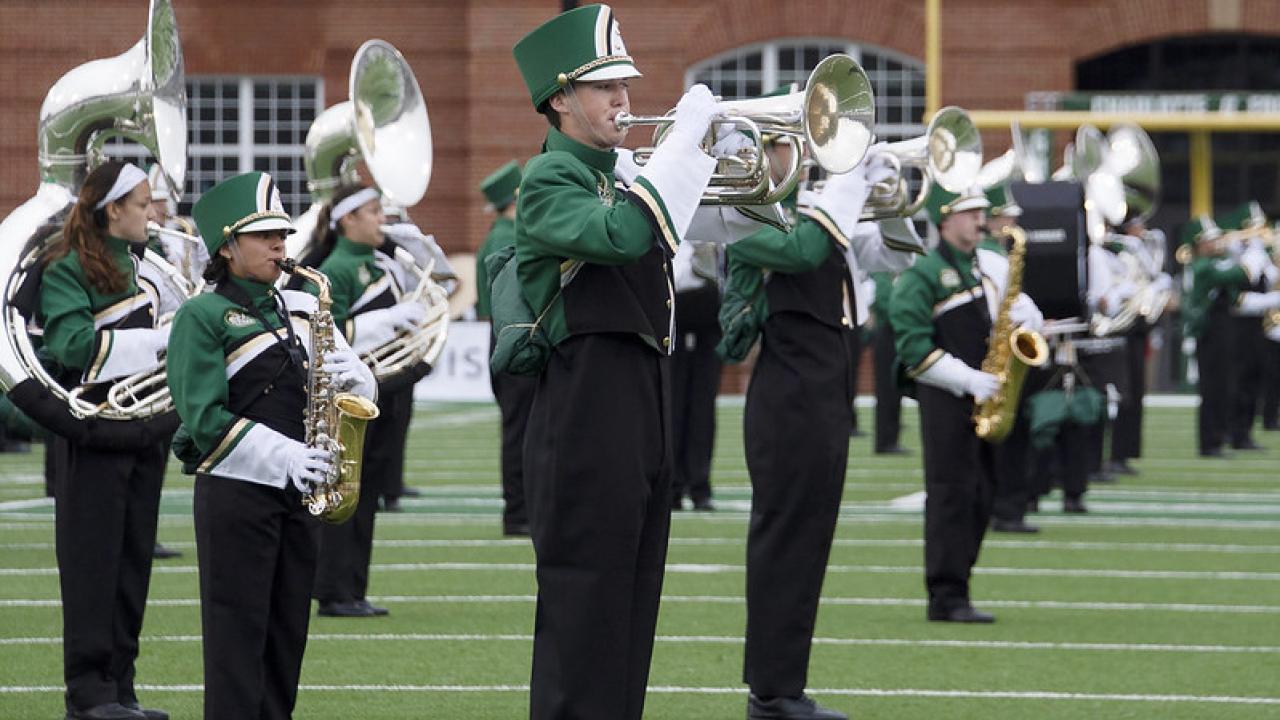 FIGHT SONG
Hail, Charlotte 49ers, proud as we can be
We stand to fight for the green and white,
Til we win the Victory (Go Niners!)
We pledge our trust in you,
And wave your colors high
The loyal Niner Nation cheers,
Forever! We'll Fight-Fight-Fight!
The fight song music was composed by former music faculty member Dr. Harry Bulow in 2001.  It replaced one which belonged to the University of Texas at Austin, entitled "Texas Fight," which had been used since the late 1960's. The new fight song was played for five years before Dr. Laurence Marks, UNC Charlotte's director of bands, composed a set of lyrics in 2006.  Minor changes suggested by the campus administration, Athletics, and students were accepted by Marks and submitted for final approval by the Chancellor and the 49ers Fight Song, reflected above, was born.
Listen to the Fight Song played by the UNC Charlotte Marching Band.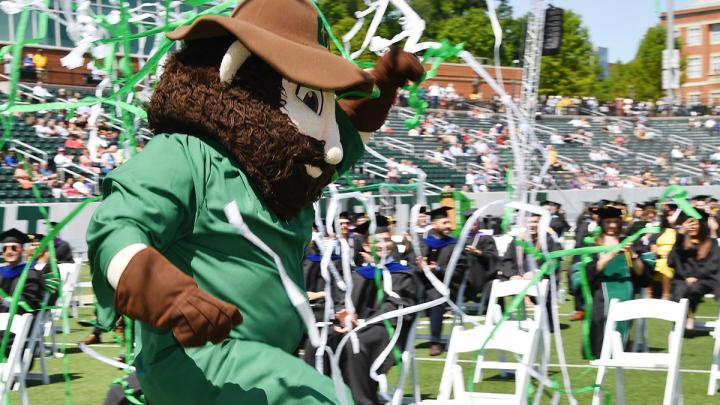 NORM
A miner was chosen as our mascot as a nod to Reed Gold Mine in nearby Concord, the site of the first documented gold find in the United States in 1799. He was named Norm through popular student vote shortly after he was made our mascot. Norm is rarely seen without his trusty pick axe and never takes his slouch hat off.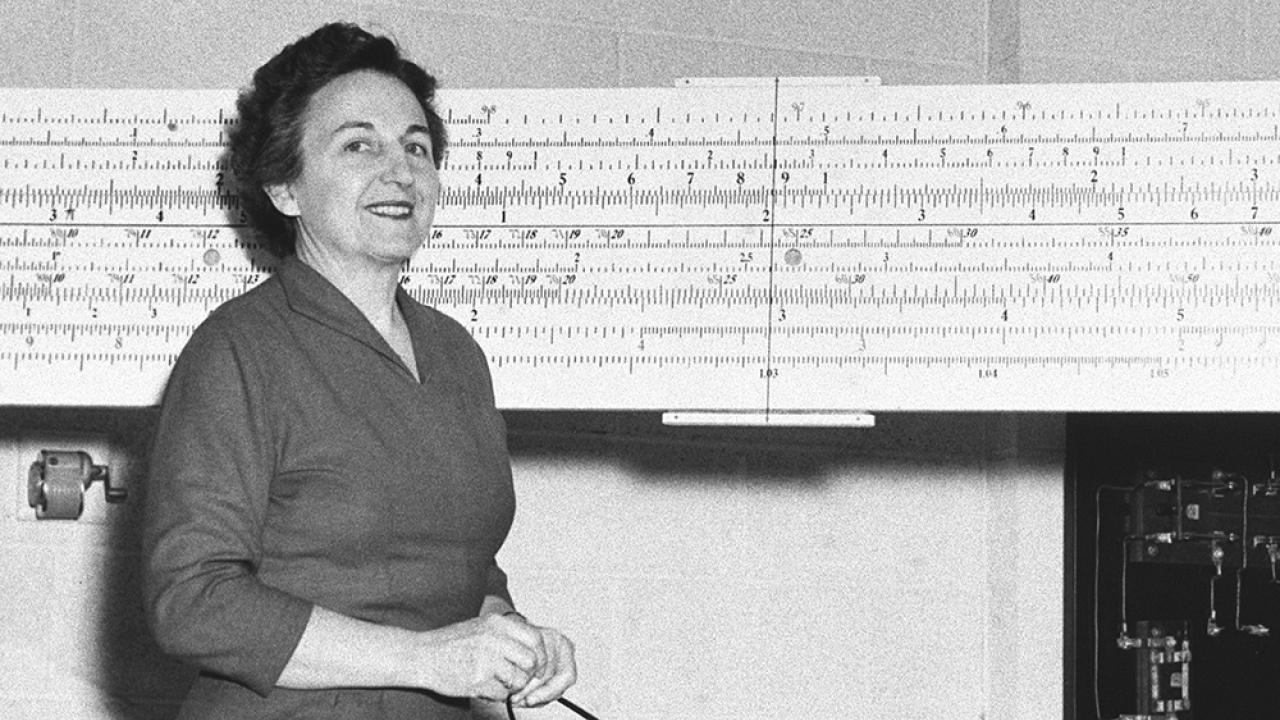 BONNIE CONE
Bonnie E. Cone, the founder of UNC Charlotte, served the institution from its earliest days. Already an accomplished educator, Miss Bonnie as she was popularly known, signed on in 1945 as a part-time instructor at the Charlotte Center of the University of North Carolina, a night school housed in Central High to serve World War II veterans going to school on the GI Bill of Rights. She became director of the Charlotte Center in 1947. When Charlotte Center was scheduled to close in 1949, Miss Bonnie persuaded the legislature to keep the institution alive, resulting in the establishment of Charlotte College, a two-year institution of higher learning, of which she served as president.
Later Miss Bonnie was appointed Acting Chancellor during the college's transition in 1965 to the four-year, state-supported UNC Charlotte that we see today. She served as Vice Chancellor for Student Affairs until her official retirement. Bonnie Cone passed away on March 8, 2003. In spring 2004, she was interred in Van Landingham Glen on the campus she loved and to which she dedicated her life.  Read more about Miss Bonnie.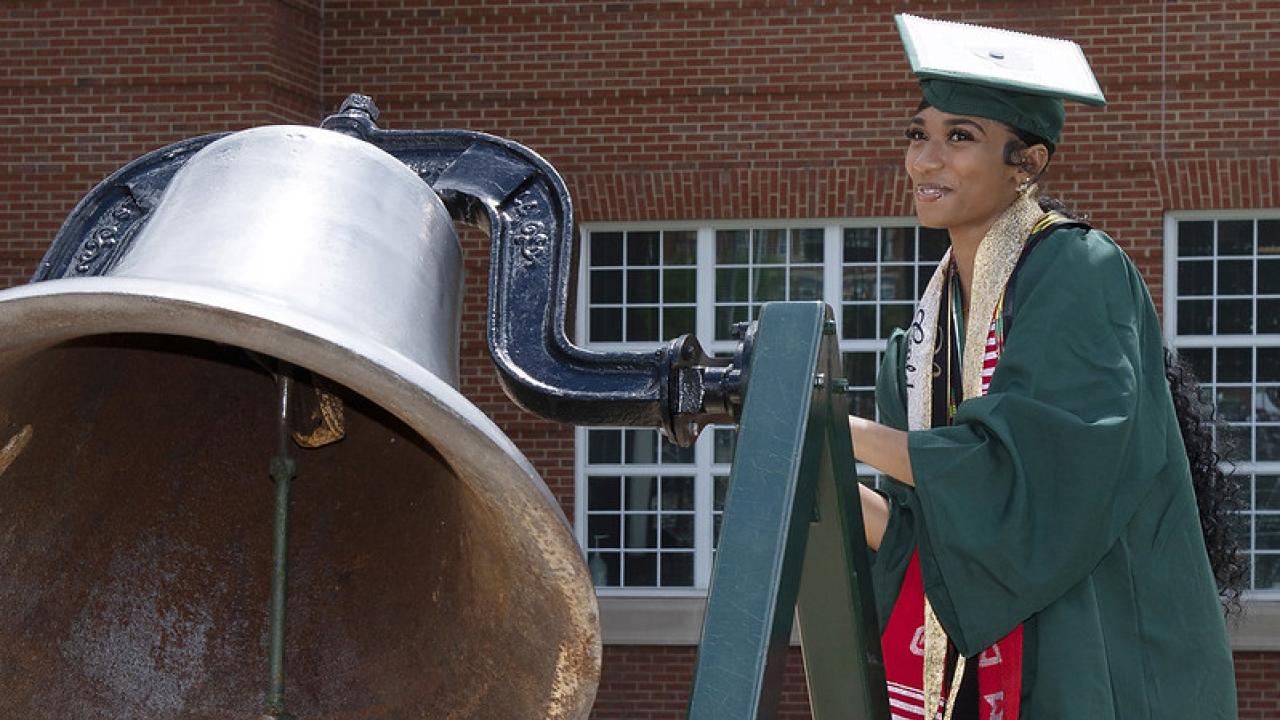 UNC CHARLOTTE BELL
The UNC Charlotte bell, which for many years hung in the belfry of the old Elizabeth School at East Fifth Street and Travis Avenue in Charlotte, was given to Charlotte College in 1960 to be rung on ceremonial occasions.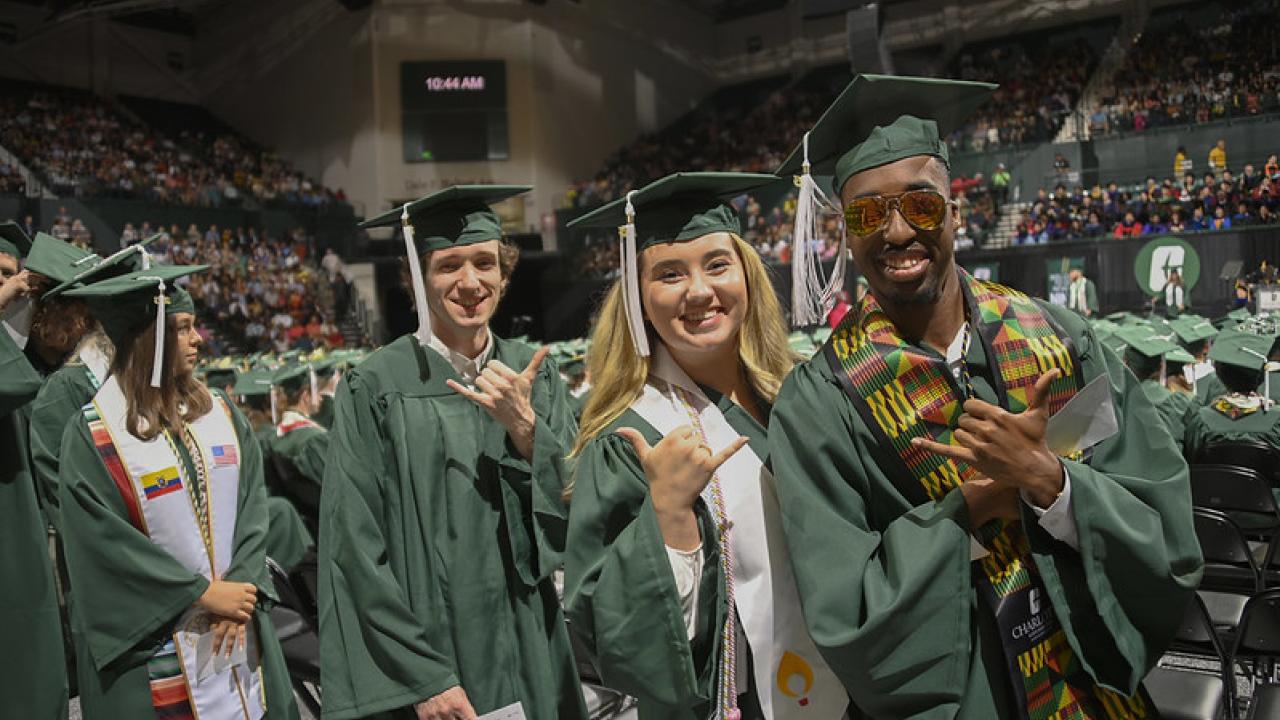 GREEN & WHITE
When UNC Charlotte became part of the UNC System, new University colors were needed to distinct the University from Charlotte College. A committee considered the colors of the other existing campuses and noticed that white was a unifying color for the other three campuses, while green would be unique to Charlotte and distinct from red at N.C. State, gold at Greensboro, and blue at Chapel Hill. In 2017, graduating students wore green commencement robes for the first time.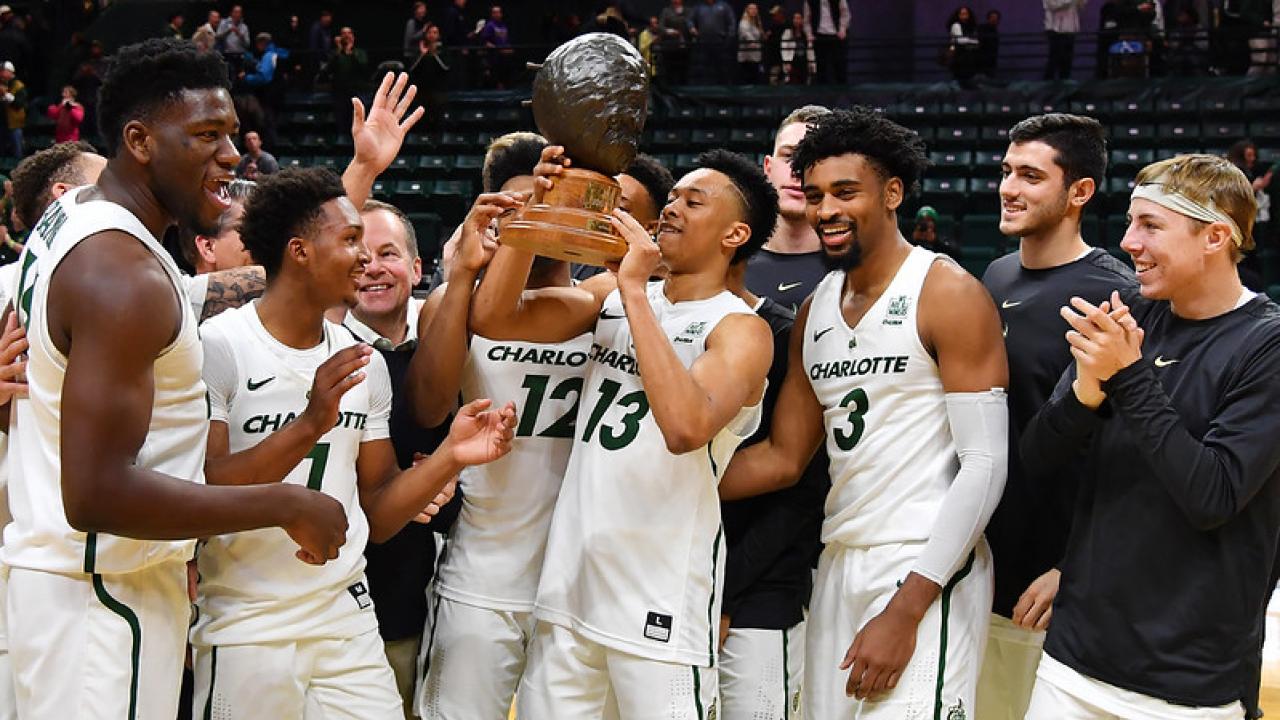 RIVALRIES
In 2023, UNC Charlotte joined the American Athletic Conference and we are thrilled to have East Carolina University as our in-state rival.
UNC Charlotte and Davidson College also play for the Hornets Nest trophy annually in Men's Basketball. This local Mecklenburg County rivalry derives its name from Charlotte's resistance to British rule in the Revolutionary War and Lord Cornwallis referring to a "veritable hornet's nest rebellion".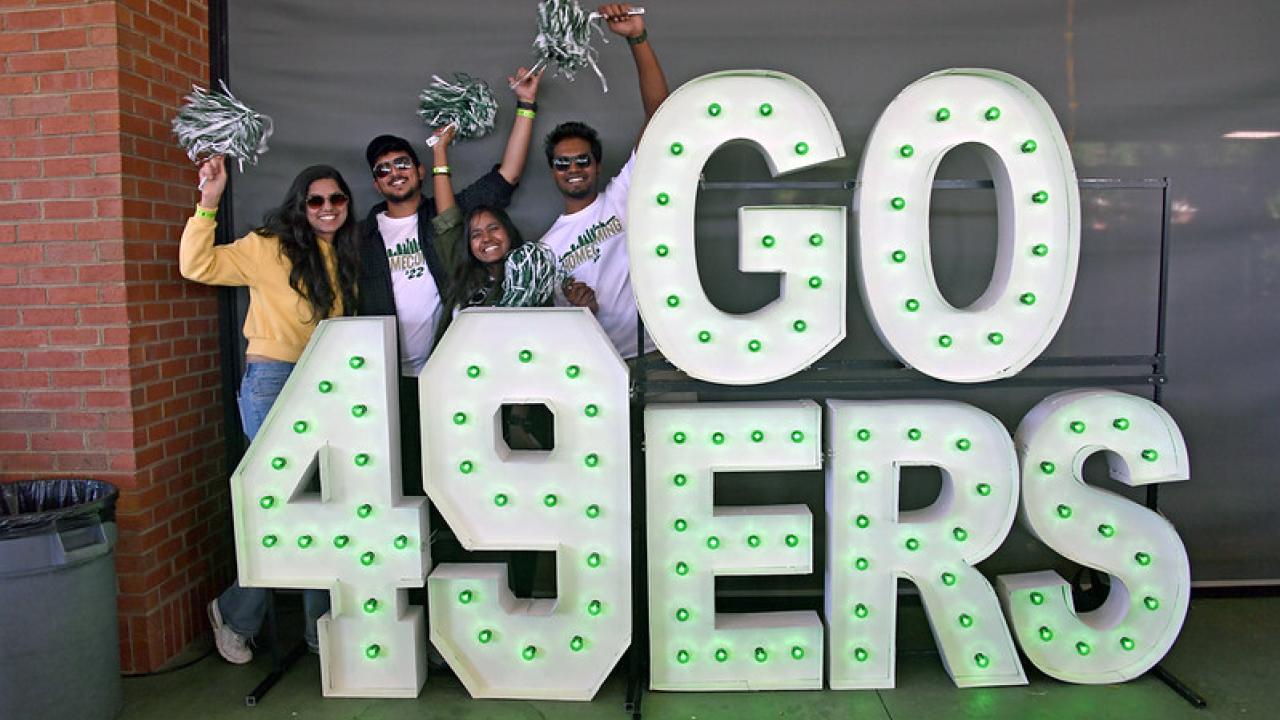 NINER NATION WEEK
Niner Nation Week is the perfect time to display your UNC Charlotte pride! The celebration combines gatherings for the larger Charlotte community with our signature Homecoming events so that there is something for everyone whether you are a student, alumni, or any friend of our Charlotte family. Homecoming is also the time for students to nominate the "Niner 9" and vote on who will be named the "Golden Niner."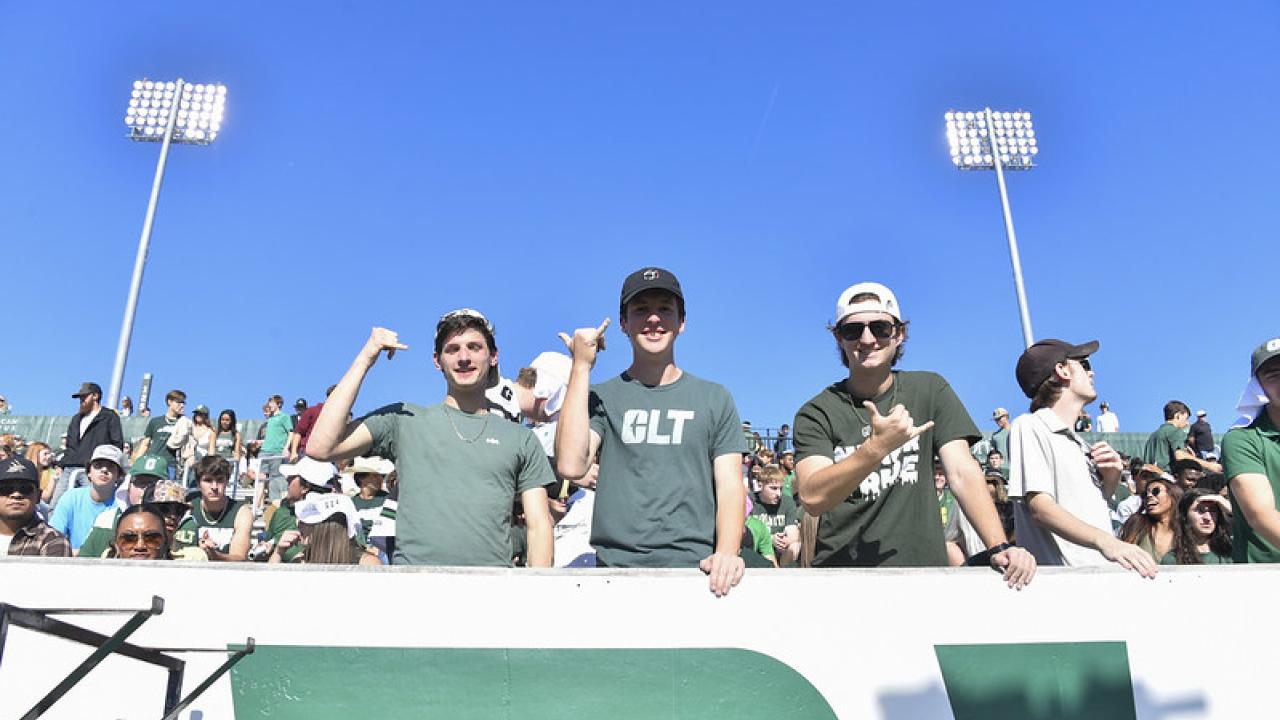 PICKS UP
The "picks up" hand gesture is a staple for all 49ers to show their Niner pride!